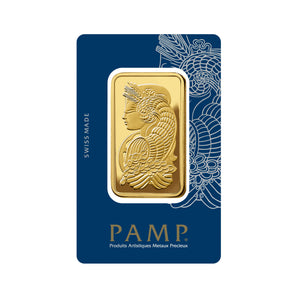 999.9 Pamp Suisse Lady Fortuna Gold Bar
Regular price $0.00 SGD Sale
The 100g gold bar made by PAMP Suisse is stamped with the beautiful Lady Fortuna. PAMP Suisse is the world's leading Bullion brand, with an array of popular coins ideal for your personal collection or investment purchases.
This is one of the most prestigious investments you could make in the gold industry. Gold-loving admirers will recognise this prestigious gold bullion all over the world. This was the first gold bar produced with a decorative image: "Lady Fortuna". The PAMP gold bar "Lady Fortuna" is a wise investment, as well as an intriguing collectible item or even a beautiful object to offer as a gift.
Lady Fortuna, the Roman goddess, and the daughter of Jupiter is the main image on this classic gold bar. As we know her through stories and myths, she is always depicted with her mythical attributes, which are the wheel of fortune, the horn of plenty and riches. On the reverse side of the bar, we have the unique serial number, the weight of the gold bar and the purity of the gold.
Available in 5g, 10g, 20g, 50g, 100g, 250g. 
-
Material: 999/24k Gold 
Prices are based on weight.
Contact us for price quotation.